YOUR NEW MUST-HAVE ESSENTIAL
HANDS-FREE LUXURY WEARABLE TOWEL
How It Works
1) Clinch elastic to desired fit
2) Hold "R" in right hand, "L" in the left hand
The towel you won't want to live without!
Created by women, the Toga Towel is the perfect towel for the shower, pool, spa, beach or relaxing. Having your towel stay in place will never be a problem again!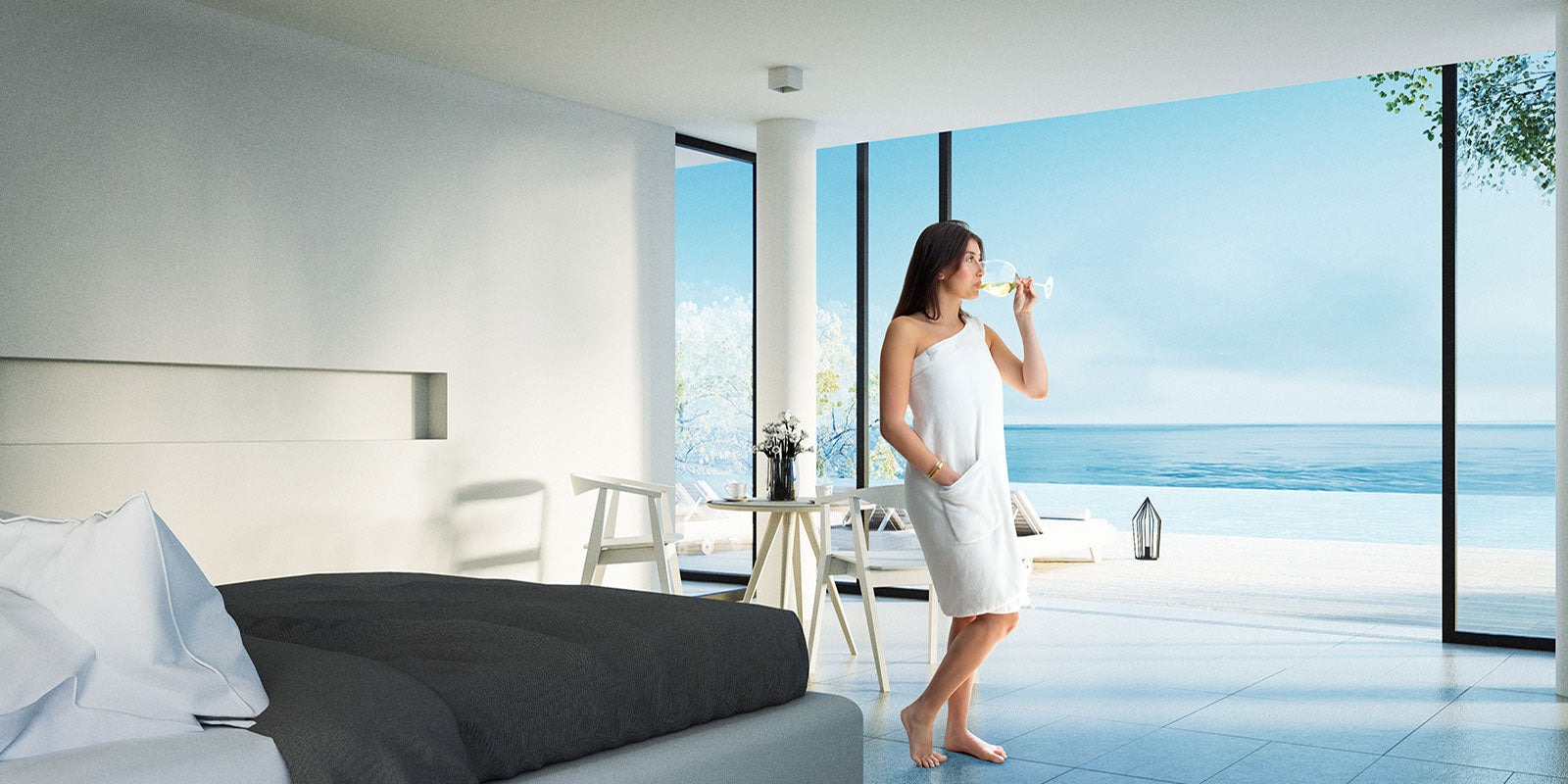 Toga Towel
Luxury Reimagined
Elevate how you start your day. Pull to your desired fit and wrap yourself in comfort – it's that easy!
Learn More
Don't take our word for it
★★★★★

I absolutely LOVE my Toga
Towel! The fabric is soft, plush, and super absorbent. No more towel constantly falling down with every movement. I can style my hair and put on makeup easily while staying warm and dry until ready to get dressed. This is a game-changer.
★★★★★

It is the softest, most luxurious towel, perfect for the beach or pool! I love the adjustability of the button for sizing, and the flap that keeps it on the beach chair. I also love the convenience of it being secure and hands free, as I apply my makeup and do my hair in the morning! 
★★★★★

I LOVE my Toga Towel! It soft, absorbent, extremely comfortable, easy to use and provides the perfect amount of coverage. What a fantastic solution to the common
towel mishaps! I cannot live without my Toga Towel!  
★★★★★

Toga Towels make everything so much easier! It is so soft and absorbs every bit of water when I get out of the shower.  I love the pocket for my phone while I am getting ready and the strap on my shoulder that keeps the toga towel on my body when I walk around. I would 100% recommend this to absolutely
everyone. It is a lifesaver and I will never take a shower without it!
★★★★★

Love love love the Toga Towel!  It is very soft, comfortable and absorbent. I love being able to do my hair, makeup and have breakfast with my towel staying so secure. Having your towel stay in place will never be a problem again. You have to try it!!!
★★★★★

This is the towel I have been waiting for! As a mom of young kids, I typically take a quick shower, then head downstairs to clean up breakfast and do dishes before getting dressed. Breakfast scraps and dishwater were constantly littering my robe sleeves. Not anymore! Toga towel offers the perfect amount of coverage while allowing me the flexibility to do my morning chores. And the material is so soft – I find myself lounging around all morning in my Toga Towel on weekends!
★★★★★

I can't tell you how awesome the Toga Towel is!  I'm a plus size and it fits beautifully!  No more unraveling towels when trying to dry hair,  so soft and absorbent, I actually look forward to my morning shower, etc.  So practical, so comfortable! Getting my Christmas list together right away!